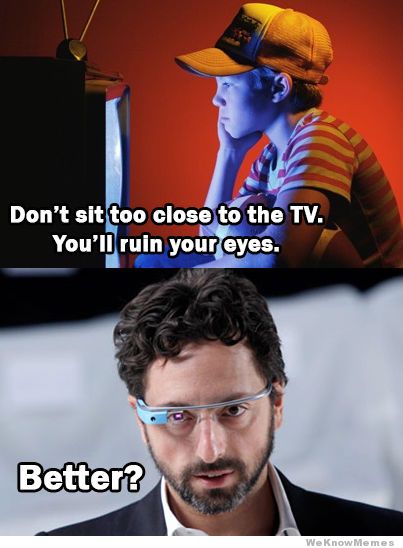 When Alice in Wonderland pokes the Looking Glass, she discovered a weird world behind it.
Using Google Glass is somewhat similar, its like the real world, but with a twist.
Getting Glass
After all the hype about Google Glass, I couldn't wait to get a pair for myself. However, I had to wait and wait for someone to have an extra invite to get this exclusive exquisite new piece of wearable technology. Finally, through the GDG Meetup group or the Google Online Application, I received an invite to join the Glass Explorers Program!
When ordering Google Glass, you have quite a few options. You have to choose the color, which doesn't really matter as I could change my choice when picking them up. You choose any additional accessories which you may want (they are all extras, you already get one of everything – Earbud, Pouch, Charger, Data cable). You should definitely choose the Sunglasses accessory, as it is free of cost.
After that, you can decide whether to pickup the Glasses (Available only in a few cities such as NYC and SF) or get them shipped. I chose to pick them up at the Chelsea Market in NYC.
You can view pictures of my experience here (do scroll below, theres a lot more to read below the images!):
Google requires you to go through a basic orientation before you use Glass. If you pick it up in person, then they walk you through everything. Else, I believe you have to call in and be walked through the process. It was pretty useful as they walk you through all the basic features.
One of the major issues that I had then (and am still having) is connecting to Wifi. I was not able to connect to it at the Google Office and they even tried changing the device. I eventually had to temporarily turn off 2 factor authentication so that it could connect. This is something they definitely need to fix.
The Glass Experience
My biggest issue with Glass is the lack of prescription lenses. It is rumored that they will be released in January – February 2014 and I am desperately waiting for those. It is only then that I will be able to use it on a day to day basis, unless I am willing to take a risk and do a self hack to tack on the Google Glass device onto my current eyeglass frame.
So the first time I used Glass, I had to take of my prescription frames and put them on. The screen is decently big and really sharp but without glasses it looks a little hazy.
After it boots up (~10 seconds) and you get used to the swiping on the side rim, its actually a pretty nifty and fun experience. When you scroll, it makes a clicking sound as well as when you tap.
To use Glass when you are outside, you have to tether it to your phone by creating a Hotspot. This is not a big deal now in the US, as the Share everything unlimited plans generally let you create a hotspot for free (I use Verizon but afaik, this is true for all major carriers). However, this could be a pain point for grandfathered plans, especially the old AT&T unlimited data plans, as I believe you have to pay $40-$50 for Hotspot privileges on those.
It gives you a lot of updates, whether it is be from CNN, Twitter, FB or from your Google Calendar. It takes voice commands which is way more efficient than Siri. Siri doesnt understand my accent, but Glass immediately understood me when I said "Okay Glass, Take a picture".
Taking pictures is really easy since you can tap the dedicated camera button on the top right of the Glass frame. It is really fast, as fast as iOS7. The picture shown in Glass Window looked a little blurry and low res to me. However, once I transferred them to my computer, they looked great (5 MegaPixel). I would like to point out that taking pictures is not that easy as you need to figure out how exactly your head needs to be oriented to get a straight picture. I took 5-6 pictures of the Empire State Building and the best one came when I was looking about 45 degrees higher towards the sky as opposed to my normal straight line of vision.
The memory size of 12GB does help as it means that you can take a ton of pictures and videos. I was told by the engineers that Glass lasts upto an hour when taking a video and upto 8 hours on standby, which is not bad at all if  you plan to use it passively throughout the day.
Glass has a lot of other nifty features which I am still exploring. It is supposed to be well integrated with Google Now and the WordLens app could be really fun as it translates other languages that you see into English. It also has a FieldTrip app which points out interesting places nearby.
Summary:
Glass is a great wearable device and I can see it being really useful, especially since you wont have to take out your phone from the pocket to do a lot of things, such as looking at maps, listening to music etc. Once the prescription lenses are out, I will switch to using Google Glass all the time, so you all can look forward to an in depth review soon!
The Good Stuff
– Its a fun piece of wearable technology, one that you can actually use extensively!
– It makes life quite a bit simpler, especially when you are out and about.
– No need to pull out a phone to check that latest email, tweet or FB post.
– Taking Pictures is a cinch.
Pane Points
– No prescription lenses yet.
– Expensive. $1500 + tax = ~1633
– Works only in the US
– Wifi Connectivity issues
– Privacy concerns (?)