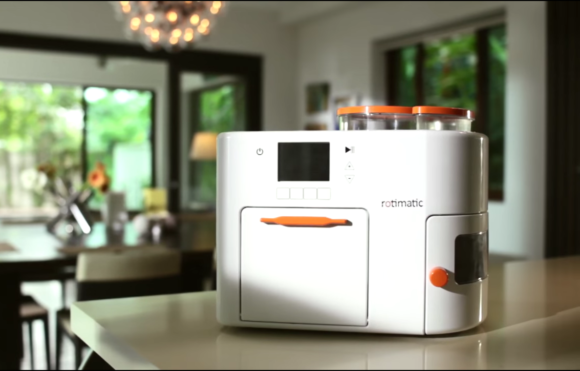 *Skip the Rotimatic Order waitlist queue with the Privileged order link at the end of this article*
I ordered the Rotimatic by Zimplistic in June 2014. Since then, it's been a long wait and my Rotimatic finally arrived in this month, in February 2017. During that wait, I used to get an update from the Zimplistic team every few months, but I assumed it was one of those Preorder (aka "Kickstarter" products), that would never come to fruition.
I was comforted by the fact that I didn't have to pay the full $599 cost upfront, only a $59 preorder deposit. And also the fact that they had 30 day return policy, so that I could return it if I didn't love it.
I was lucky enough to receive 4 preorders from my referral link, giving me $80 off the list price. On the flip side, I had an option to choose $80 Sea shipping which would take 45-50 days vs Air shipping which would take 7-9 days costing $135 dollars. After 2.5 years, I didn't want to wait any longer. It was a no brainer and I chose Air shipping.
Fast Forwarding to 2017, Finally, the day was here! I received the notification that my Rotimatic had arrived!!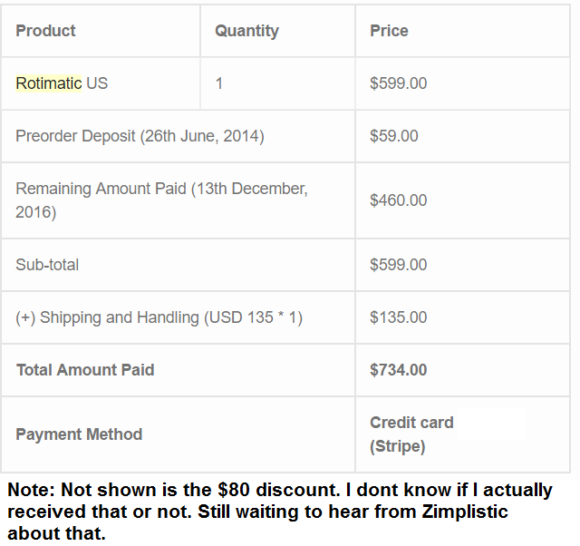 Unboxing and Setup
The Rotimatic box came slightly damaged, so when i tried to lift it up, the top just came off. I'm guessing this is because of the rainy weather we've had recently in California, but I expected the box to be better sealed, especially for a $1000 appliance. However, no harm no foul, since the machine hadn't been affected.
The first big surprise came when I lifted up the Rotimatic. Holy cow, it's heavy. It weighs about 20kgs / 44lbs.
Setting it up was quite easy. Plug it in, set it up via the app. The manual is well made and answered most of the questions I had. I also appreciated the "Quick Tips" email I got from Zimplistic, especially since it listed what brands of Atta / Wheat Flour I should use. I hope they start sending email when the order is shipped as opposed to after its received, so that someone can buy the right brand of atta in advance.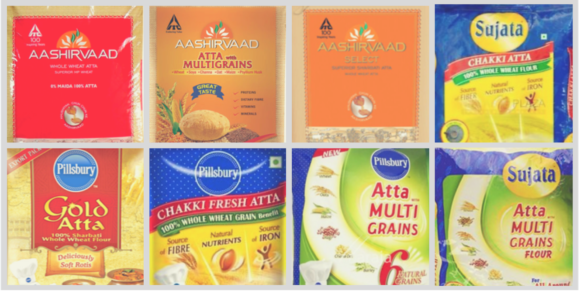 Tip: Make sure you look at the bottom of the packing material in the box. The cleaning brushes are the BOTTOM of the plastic panels and I almost threw them away.
First Roti
One thing I did not know was that the Rotimatic takes 6 minutes to warmup. So I had a friend come over, switched it on to make a Roti and realized that i had to wait for quite a bit of time. This happens every time you start up the Rotimatic, so prepare for that. Also, sometimes it preheats when you switch it on vs after you start making the first Roti, so plan ahead.
The Roti making process is quite interesting and the first roti generally takes about 2 minutes (As evidenced by the video). After that, it kneads some dough and roasts another Roti at the same time, so it takes about a minute per Roti. And yes, it is THAT noisy!
First Impression
I had a Rotimatic party organized the first night I tested the Rotimatic. In hindsight, I probably should have tested it a bit first.
Till date, I've made about 50 Rotis, so I think I've tested it well enough to get a first impression.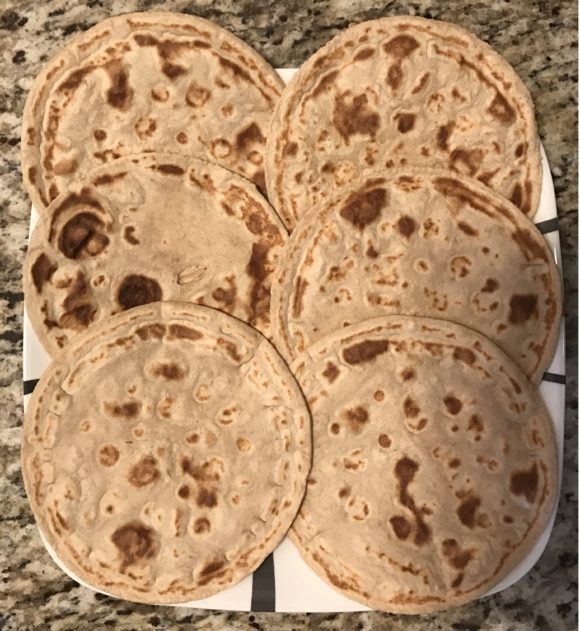 Texture: The Roti dough is a mixture of Atta, Oil and Water. For me, when Roti/Phulkas are made at home, we put some Oil/Ghee once the Roti is completely ready, not in the dough itself. Hence, the texture is somewhere between a Phulka and a Paratha.
Taste: The Rotis taste relatively similar to a Kawan Paratha for me. And during the first 10 "Test" Rotis, some of them tasted slightly undercooked to me, but not so much anymore.
Cold Rotis: I left some Rotis outside on an uncovered plate for an hour and then tried them. Bad idea. They tasted quite dense and hard. Hence, I would recommend having the Rotis fresh (which is also the point of having a Rotimaker).
Roast: I was quite disappointed with how well the Rotis were roasted. On Maximum roast, it looks similar to a slightly lightly toasted piece of bread. I like my Roti well roasted and was disappointed not to have that option. Also, the minimum vs maximum roast setting tasted relatively similar to me. Which is weird, considering there are 5 roasting gradients to choose from.
Thinness: The thinnest roti is definitely what I always use. I would personally like the Rotis even thinner, but I assume there were some technical restrictions for the same. The thick rotis are definitely thicker and definitely not to my taste.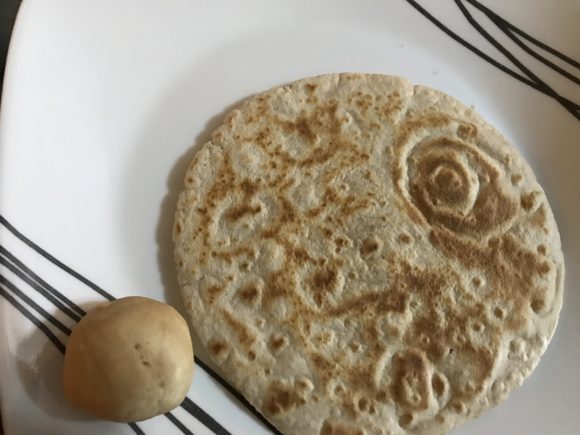 Technical Issues
Though the Rotimatic machine worked well in general, I had a few minor issues with the machine:
Water container error: I kept getting an error that the water container needed to be filled and fit in to the machine. I kept trying to fit it and had no idea why it wasn't working. Eventually, after 5-10 tries it did work, but it was quite frustrating.
Dough ball gets stuck: After it kneads the dough, the Rotimatic arm sometimes doesn't move the dough into the machine (The ball of dough is shown in the previous Image above). The first time this happened, I used the small side door to take it out. I switched the machine off to reset it. Worst idea ever. It wound up taking 6 minutes to heat up again. The second time this happened a few days later, I simply ended the roti making process and left it for 3-4 minutes. It eventually finished making the roti and then I started the Roti making process again.
Hockey Puck Rotis: This happened twice the first night. Sometimes it would press the ball of dough, but not flatten it. So the Roti would come out shaped like a Hockey Puck / Disc. (As shown in the next Image below)
Power: I think it consumes quite a bit of power. I had my 1100W Microwave, the Rotimatic and my Desktop computer on the same power strip. Running them all simultaneously, I tripped the switch. If I don't run the Microwave and Rotimatic together, everything works great!
Noise: The Rotimatic is so NOISY! You get used to it after a while, but I've definitely not owned something so noisy before, other than maybe a Washer/Dryer.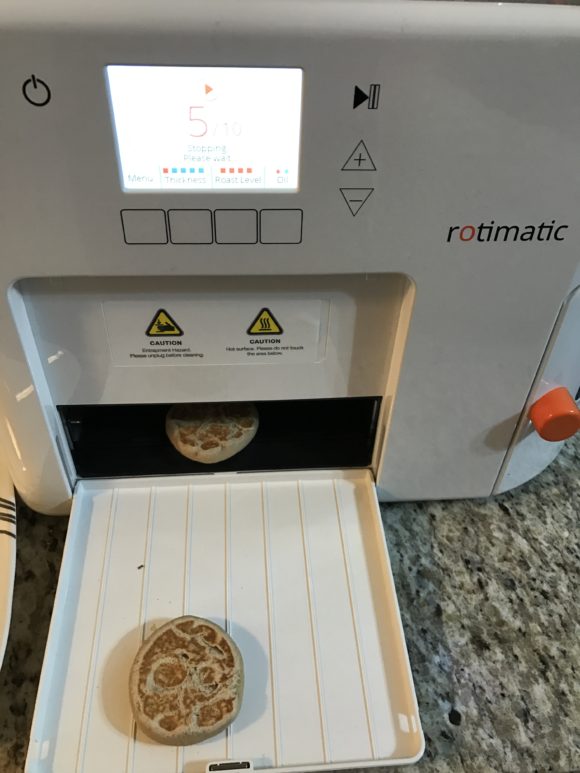 Summary
Pros:
You can have Fresh Rotis anytime!
You don't have to spend any time kneading dough!
The Rotis taste quite good!
Cons:
No error details or timer. So you're not sure what to do when something gets stuck.
Roast setting on maximum needs to be super well roasted
Needs an option which allows you to put no Oil in the dough
The Warmup for the machine be done when the machine starts, not when the first Roti is made
Recommendation
If you are tired of making your own Rotis, don't like visiting the market again and again or just need fresh Rotis everyday, its definitely a good buy!
However, at the $950/$999 price right now, its definitely not affordable for everyone.
If you like having the latest tech products and wish/need fresh homemade Rotis everyday, buy it now!
If you are facing sticker shock and can't imagine spending that much on any Kitchen appliance, then I would say wait for a year or two, until Rotimatic version 2 or 3 comes out (assuming that it does).
Privileged Order Link

According to Zimplistic:
"We are now ready to take new orders in the US! The shipment for these new orders will only begin in May, after you all have received your Rotimatic.
Since you are the pioneers of this journey, here is the privilege link for your friends and family who would have asked for more information.
New orders are open at a price of USD 999 (not USD 599 as that was a special preorder price for all of you who believed in us from the early days).
However, with this privilege order link, your friends can skip the waitlist queue and thus get ahead in the delivery queue.
Invite your friends and family to join the smart-cooking revolution!"
https://rotimatic.com/order-us/?invite=pioneerprivilege58a560621ef6a&utm_source=preorders&utm_campaign=Preorderprivilege&utm_medium=email
Enjoy! Don't forget to let me know what you think about the Rotimatic!